WHY I TEACH
Teaching is not simply about lessons
I try to provide a role model and be a motivator as well as giving information. Perhaps that is why I still hear from students I taught in fourth grade after they are in college. Many teachers shun letting students into their life. I think building personal relationships helps to motivate students and to get them to trust that you have their best interests at heart. When students believe that, they are more open to instruction and they learn more.
When I went to a high school graduation a couple of years ago a former student paid me the biggest compliment I've ever received. At his graduation he told me, "Thank you for being my teacher. You taught me to expect more from myself and never to settle for less than my best."
Here are excerpts from an email I received from a parent three years after her student was in my class: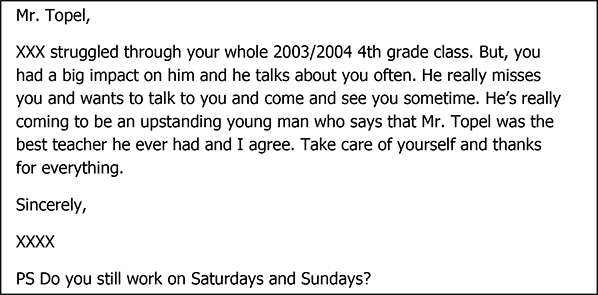 HEALTH ISSUES FORCED ME TO TAKE DISABILITY RETIREMENT
But teaching was not just a job, it is my vocation
I have 11 years of classroom experience and two years teaching technology. I have a Master's Degree with a 3.97 GPA. BIG DEAL. What sets me apart is my passion for teaching and my creative lesson planning.
BONIFIDES
You don't want to trust just anyone with your child!
Please check my resume, transcripts and references. My background has been checked and cleared by the State of Maryland Dept. of Public Safety.
I have four grown children and eight (going on nine!) grandchildren
COST
Standard charge $30/hour
My rates are competitive, but they are not set in stone. Rates are negotiable depending on number of hours per week and other factors.
Please contact me and let's work something out.