KIDS ARE NOT BORN KNOWING HOW TO STUDY
I use the SQ3R Comprehension Method to help students learn how to study
SQ3R was originally designed for college students, but it soon became obvious that all levels could benefit from the system.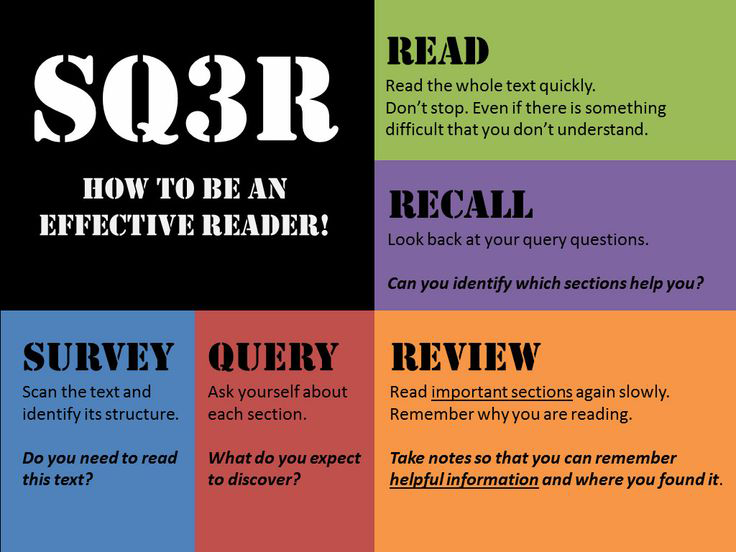 It is not enough to introduce SQ3R and move on. My students filled out an SQ3R sheet for every reading assignment. At first it is difficult and time consuming but it soon becomes second nature.
MOTIVATION IS THE SECRET TO LIFELONG LEARNING
It is vital that students become "inner motivated"
Yelling at your student or taking away privileges for poor grades might work for a minute but it doesn't last. With my boys it didn't even last until dinner! That kind of "outside motivation" is temporary and ineffective. But how do you get kids to want to excell in the classroom? Does any boy have to be forced to go out and shoot baskets? Does any child have to be bribed or threatened to play video games? So what's the big difference? Is it want to do vs. have to do? So how do we get kids to want to do homework, to want to read the book, to want to study for the test? I think the first step is to create some success and then to build on it. Learning has to be as much (or even close) to as much fun as the things kids want to do.
MY METHODS MAKE LEARNING FUN
Kids learn more when they are having fun
It takes more effort to create interesting, but it is worth the trouble. See for yourself the difference it makes when your student is engaged in learning.
Give your student the gift of opportunity. What do you have to lose (a few dollars) vs. what your student has to gain (a lifetime of success)?